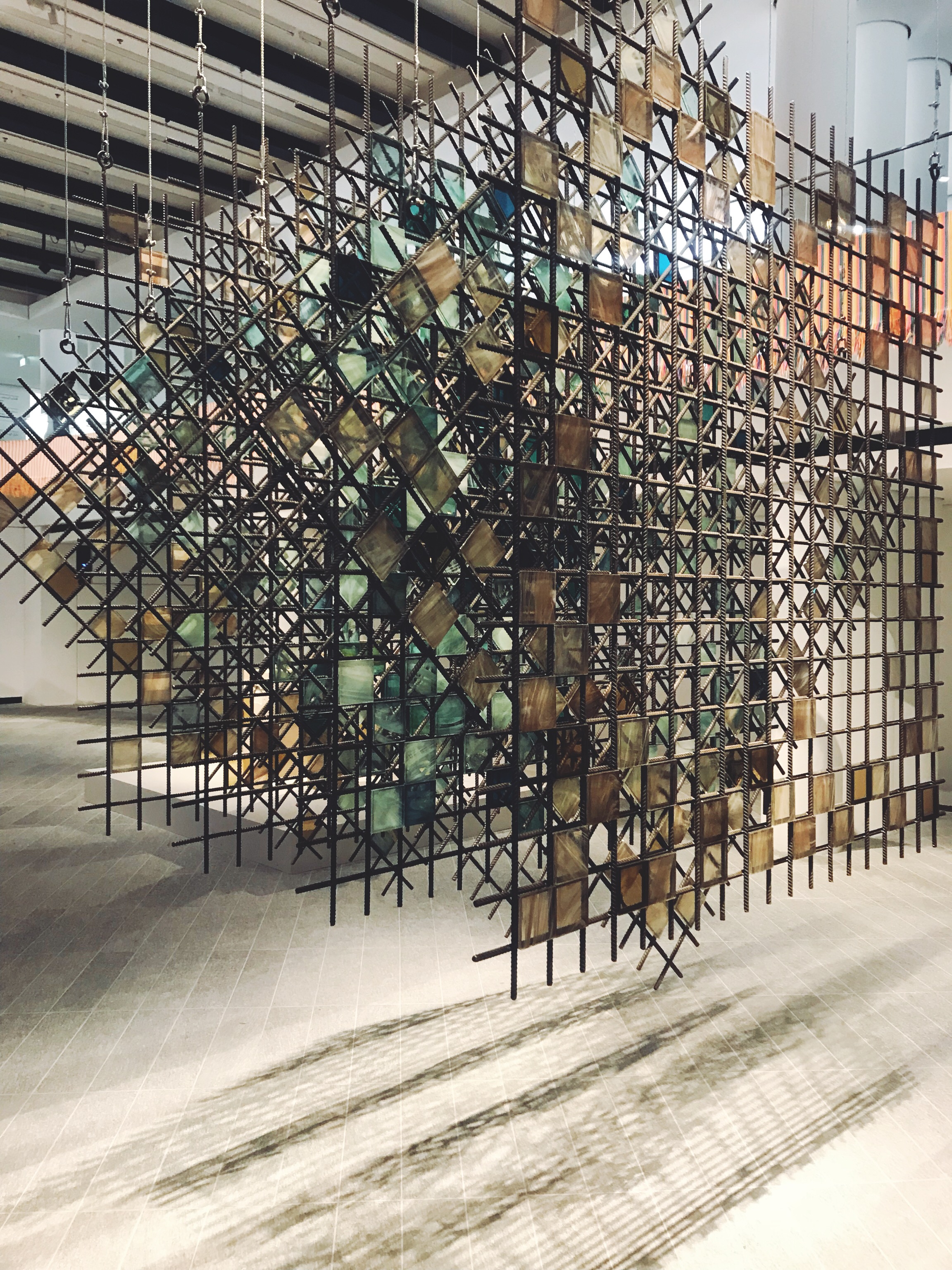 Metamorphic | 2018
Made of eight layers of reinforced metal mesh and stained glass, "Meta-Morphic" is an installation of conceptual art.
The different layers of stained glass represent select colours of the land and water, extracted specifically from the topography of Saadiyat Island, where the Louvre Abu Dhabi will be located. Formed with rotated metal mesh and scattered squares of stained glass, the installation will reverberate as the viewer walks around it.
Almost static, these shapes are a deconstruction of the surrounding geographical landscape. Thanks to the environmental changes and human interference, geography is in a constant transformation, a fact that we often dismiss.
"Meta-Morphic" decontextualizes these geographical forms into abstract shapes that visually speed up the shifts in nature. As the viewer walks around the installation, the two- dimensional images morph into three-dimensional ones. The reinforced metal mesh restrains elements of nature into a confined form used for construction purposes, reflecting the dichotomy of man and nature.
"Meta-Morphic" is a reminder that in our life times, humans have contributed to the shifts in our landscape; the maps that that we now know today we might not know tomorrow.
This artwork in collaboration with Saint-Just part of leading glass producer in Europe, Saint-Gobain - France.
Founded in 1826, the Glassworks at Saint-Just were created by Royal Order of Charles X, King of France. By 1865, they reached their heyday, under Mathias André Pelletier. At the time, the new owner and famous glass craftsman decided to concentrate production on coloured window glass production.
When the leading glass producer in Europe, Saint-Gobain, became interested by the technical knowledge of Saint-Just, the firms joined forces. By 1961, Saint-Gobain took over all of manufacturing
Modern artists and designers like Philippe Starck and Peter Marino used Saint-Just coloured glass in their creations, including at the Baccarat Showroom in Paris and the Louis Vuitton shop in Shanghai.